Hooters Loves Bill Gates and Warren Buffett
I recently added the Windows Expertise of Ed Bott to the list of Blogs I read and this week he posted a fun story. It's an old event but worth noting because it's just too funny and I just couldn't help myself.
At an October 2006 meeting of Berkshire Hathaway, Warren E. Buffett suggested the board of directors stop by the local Hooters to pose for a Christmas Card photo. At least, Bill claims it was Warren's idea. We must have been dropped from Buffett Family Christmas list because we didn't receive one this year.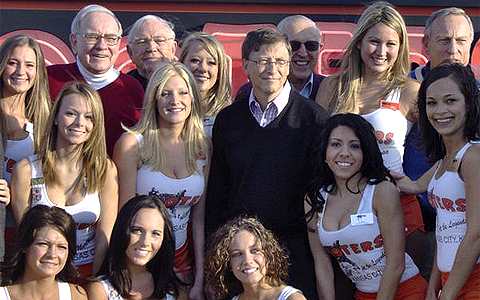 To show their appreciation, Hooter's awarded the two worlds richest men a Hooters Vip Card. Now they can go to any Hooters and eat all they want.
When I look at Bill's face I just get the idea he's thinking, "How do I explain this one to Melinda".
Meanwhile, Melinda has been working to help women around the world who don't have the benefits of Hooters enormous health care plan.

Melinda French Gates in Calcutta (source: Newsweek Health)
Share
WinPatrol 2013 - Free Download