Remove AOL Email Footer Advertising
Earlier this month Yahoo! Mail Blog announced that advertisements would no longer be included at the end of messages sent by Yahoo Mail users. The news brought hopes from other free Email users that perhaps Gmail and Hotmail might follow Yahoo's example.
Last year I wrote
how angry I was,(as a paying customer) that AOL started to insert advertisements at the end of my Emails. I even came up with a way around it although it was a bit of a hack.
Thanks to a tip from one my readers, I learned that AOL does provide an way to opt-out. I'm not sure if this is an official solution but it worked for me.

AOL users can click the following, remove the check box and click Save.
http://controls.api-mail.aol.com/mailcontrols/app/en-US/FooterControl.html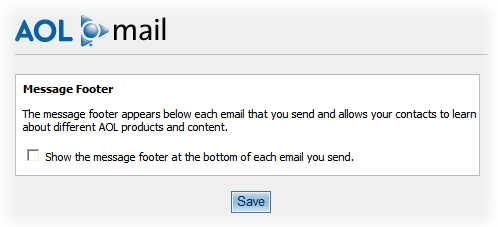 Remove AOL Email Footer Ads
Labels: advertising, AOL, Email
Share on Facebook