Hidden Files in Firefox 3
My mail bag has had a few concerned WinPatrol users letting me know they were alerted to new hidden files created by Firefox 3. While this is a change from older Firefox versions it certainly isn't unusual for applications to create their own hidden files.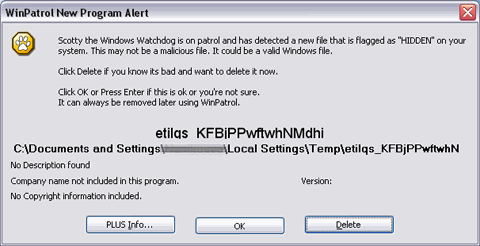 One of the many features of WinPatrol is to let users see what hidden files exist in specific system locations. While not a default setting, we'll alert users to any new hidden files which are created.

Monitoring for new hidden system files isn't a default setting because it's not uncommon for applications to create temporary hidden files and then remove them. Having this monitoring always-on could needless scare folks but it's available for anyone who wants it. The most valuable aspect of this feature is being able to use WinPatrol to review or remove hidden files when cleaning up some kind of malware infiltration.

Hidden Files as seen by WinPatrol
Share on Facebook