Tagged by Most Annoying Spam Yet
I've always been a little leery of Social Network sites. As an experiment, I did join LinkedIn and it doesn't suck but I'm not a big fan of MySpace or Facebook. I especially don't like sites who encourage users to enter the Email addresses of their friends and family.
The Email I received below is by far one of the most annoying I've received in a long time. I don't know Kathie B and I was almost tempted to click on "No" just to show my disgust. Of course by doing so Tagged would now have a confirmation that my Email address was active. This same approach is sure to be copied by online phishers trying to get additional information.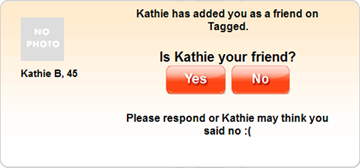 I wandered over to Tagged.com to see what it was all about.

"Tagged.com was launched in 2004, and is an explosively growing social-networking portal developed specifically for teens aged 13 through 19. Emerging as the premier brand in the lucrative teen demographic, Tagged.com is rapidly becoming the number one teen site on the web."
Tagged claims 30 million registered users and they also acknowledge that
63% are 18 or older
.
Site Advisor
hasn't flagged this site yet even though its members don't have a lot of good things to say.

I was able to trace Kathie B's Email address to a WinPatrol customer from 2004 who apparently had support@WinPatrol.com in her address book. Just how all the names from her address book were obtained by Tagged.com is a mystery for now. I do thank Kathie for giving me something to write about and will update y'all if we find out more.
Labels: site advisor, social network, tagged, teens
Share on Facebook